I love making brunch. It is a great reason to get up early and jump right into the kitchen, setting to work making universally loved dishes (looking at you, bacon). It is also, really, the most convenient time to have friends over - you get the morning to cook and clean pre-party (read: shove all of your unfolded laundry into the closet) and the evening to clean up post-party (read: declare that you now will finally fold aforementioned laundry, but really just eat leftovers).
So, what are some elements of brunch that makes the meal so dang appealing? Some options:
It feels luxurious. Saying you are "brunching" feels deliciously upper-crust.
If you are combining breakfast and lunch, you have every excuse to eat two meals' worth of food.
Drinking in the morning. Just sayin', mimosas are amazing.
You have a loose framework to follow - unlike a dinner party where you feel the need to 'wow' with new, clever dishes, everyone has a general idea of what to expect for brunch. There will probably be eggs, some form of bread/pastry and, God willing, pork breakfast meat.
Despite said expectations, it is super fun to play with breakfast food conventions to create something special. Love breakfast burritos? Make breakfast tacos! Minds will be blown!
It is super easy to make vegetarian options for non-meat-eating friends.
It is inexpensive. Flour and eggs will likely be the bulk of your ingredients, and it's hard to get much cheaper.
What you don't eat can often be frozen and re-heated for future brunches. Baked goods such as muffins, biscuits and scones are fantastic for this, and, SPOILERS, potato dishes...
Gratuitous bacon shot. Delicious with H-100's (and everything).
In anticipation of this upcoming football season, Ryan and I have decided to host a standing brunch for anyone who feels like swinging by. No RSVPs are required, which means we are trying out dishes that can scale from as a few as six people to as many as forty.

This is a cooking challenge I am SUPER excited for, as it stimulates the producer-ly planning part of my brain combined with the fun of binge cooking comfort food. The items have to be easy to make and ideally easily frozen if there is a small turnout. Above all, they should be crowd-pleasers.

...and what is a bigger crowd-pleaser than enormous, cheesy, Tater Tots?
Specifically, H-100s from Alhambra's heavy metal-themed burger joint, Grill 'Em All. These babies are packed full of garlic and cheese, then fried in a seasoned panko breading and served with a garlic aioli. For crying out loud. They also have burgers that will make your taste buds explode with pleasure, but that is a different story (:cough:
Vampiro burg
).
Now are you ready for information you can't un-learn?

Tater tots, including these suped-up heavy metal potato beasts, are totally simple to make at home. That's right, you could eat these every night. Every. Freaking. Night. (Disclaimer: You probably shouldn't do this.)

Not only are they delicious, but they are also a great item to cook at a party because, if you run late, you can have your friends help with the forming of the tots and/or breading.

So who wants to learn how to make some H-100's???


Start with three large potatoes.
Drop them into a pot of lukewarm water, and bring to a boil. Once boiling, cook for approximately 20 minutes, or until the potatoes easily split with a fork.
While the potatoes cook, grate 1 cup sharp cheddar cheese and 1 cup pepper Jack cheese. Be sure to grate extra snacking cheese, if you are anything like me.
Mince 8 cloves of garlic either by hand, or with your nifty garlic mincer. 5 cloves will be for the potatoes, and 2 for the aioli.
Combine garlic and cheese in a bowl and set aside. Try not to eat.
See this tater? It is fully cooked, as evidenced by the clean split.
Let the potatoes cool and peel the skins.
Grate the potatoes on the large side of a box grater.
Combine with heavenly cheese mixture, and add salt and pepper to taste.
Shape into cylinders, approximately an 1 1/2" high, and 1/2" wide. It should fit nicely into the palm of your blurry hand.
Line up your little soldiers on baking sheet and pop into the fridge to chill. While chilling, start preparing the aioli.
Add 2 coves of minced garlic, 1 cup mayonnaise, 2 tsp Dijon mustard, 2 tbsp apple cider vinegar and 1 tsp fennel seeds to a bowl. Add salt and pepper to taste.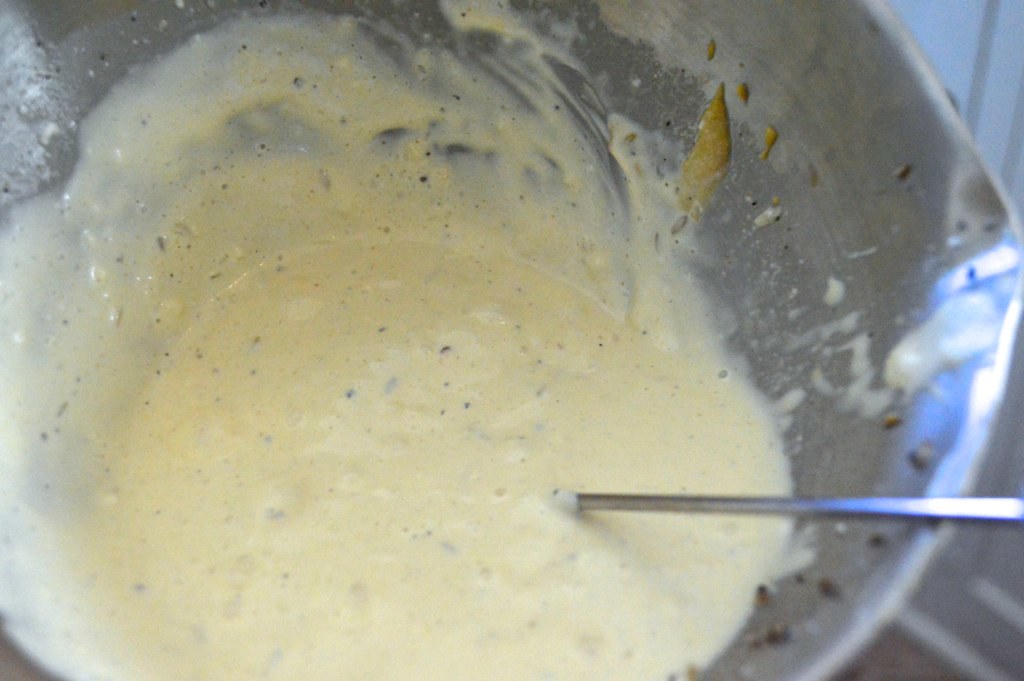 Whisk, baby, whisk.
Once combined, pour into serving bowl and chill in refrigerator. Set out about fifteen minutes before you are ready to serve the H-100's so that it has time to reach room temperature.
Back to the Tots. Set up a breading station comprised of flour, egg wash and breadcrumbs.
The panko should look like this - heavily seasoned with paprika, salt and pepper.
Remove your H-100's from the fridge and toss in flour. I find it helpful to do the flour in one batch...
...and egg wash and breadcrumbs in a second batch. The latter is super gooey, so it helps keep things streamlined. This is a great time to have a friend step in and help you, if you are working on other dishes.
Look at all the tasty seasonings on this - this is why seasoning the breadcrumbs is so deliciously important.
Pour an inch of canola oil into a skillet (or other frying vessel) and heat over medium-high heat. When it is to temp (when water sizzles when sprinkled onto the surface), carefully drop in the H-100's with a spoon. Look at 'em bubble.
Check after about 40 seconds to see if the bottom is brown - it will happen quickly. Once golden, flip and let the other side cook.
Remove from oil and set aside on either a cooling rack or a plate lined with a paper towel.
Place into your favorite serving dish, uncover the aioli and enjoy!
There you have it! What is your favorite potato side dish?
H-100's (Cheesy Tater Tots)
Serves 6 with ample portions, 8 for moderate portions.
3 large potatoes (I used Russet)
5 cloves of garlic, minced (if making the Garlic Aioli, can mince all in one go)
1 cup sharp cheddar cheese, grated
1 cup pepper Jack cheese, grated
1 1/2 cups flour, for dredging
2 eggs plus 2 tbsp water, for dredging
2 cups panko breadcrumbs
1 tbsp smoked paprika
Salt
Pepper
Timing note: When making these, be sure to leave about 15 minutes for the potatoes to cool post-boiling. When you peel and grate them, you really don't want them to burn your hands. I learnt this the hard, impatient way.
Start by placing your potatoes in a pot and bringing them to a boil. Once at a rolling boil, cook for 20 minutes.

While the potatoes are cooking, grate your cheese using the large side of a box grater and mince your garlic. Toss into a big bowl and set aside.
After 20 minutes, pierce the potato with a fork - it should split the potato, or at least slide right in. You are checking to make sure it isn't hard and undercooked. Once cooked, set aside to cool.
[At this stage, it is handy to make the aioli. See below.]


Once your potatoes are cooled, peel the skins off and grate the potato using the same large side of a box grater. Add to bowl with the cheese and garlic, add salt and pepper to taste, and stir to combine.
Use your hands to shape the potato mixture into Tater Tot-shaped balls, setting them down on a baking sheet once formed. Aim for about 1 1/2" high and 1/2" wide. Once they are all formed, place the baking sheet in the fridge for 20 minutes to chill and solidify slightly.
While chilling, prepare your dredging station with flour, egg wash and bread crumbs. For the egg wash, combine the eggs and water in a bowl and whisk heartily with a fork until smoothly blended. For the bread crumbs, combine the panko with paprika, as well as salt and pepper to taste. I love paprika, so I add an ample amount.

Place a cast iron skillet (or any frying vessel) over medium-high heat and fill with 1 inch of canola oil. The oil is ready to go if it sizzles when sprinkled with water. Remove the H-100's from refrigerator and gently lower 5-6 into the oil using a spoon. They will sizzle and quickly turn golden brown.

Check regularly and flip when the underside is brown, about 40 seconds. Flip and cook the other side, then remove and set aside on a cooling rack, or a plate lined with a paper towel. Continue until all tots are cooled.

Serve warm, and enjoy the heck out of them!

If Freezing: Let cool, and place into a freezer bag in one layer. To reheat, place in a 350° oven and cook for about 20 minutes, or until warmed through.
Garlic Aioli
Adapted from
Les Petites Gourmettes
Note:
The original recipe calls for malt vinegar and tarragon, which I am sure is lovely. I didn't have any around, so I adapted to the below.
2 cloves of garlic, minced
1 cup mayonnaise
2 tsp Dijon mustard
2 tbsp apple cider vinegar
1 tsp fennel seeds
Salt and pepper to taste
Add all ingredients to the bowl you wish to serve it in, and whisk. Allow to chill for at least 15 minutes. If your sauce seems too thick, whisk in 1/2 tsp more vinegar at a time until it reaches your desired consistency.