As a diligent fan of food and entertaining blogs, I am always looking up recipes. I love trying new things, and keep aggregating appetizer recipes to try. Cookbooks line my shelves, full to the brim with earmarked pages of adorable canapes and small bites with delicate garnishes that I have daydreams of serving at upcoming parties.
You know what, though? Sometimes you just don't have any time to cook.
When those times happen, you can look to one thing to keep your party food looking inviting and well-thought-out - presentation.
Paying close focus to presentation can be one of the most best ways to show your guests that you have thought about their needs and put in extra effort to make things look desirable to them. It is what separates a weeknight family dinner from an actual dinner party.
More often than not, adjusting a meal to have a little extra pizazz and attention to detail will not take much extra time. This can be done by plating on your food on a beautiful platter, paying attention to garnishes, laying food out in a way that is accessible to all - or all of the above.
Presentation skills can be used to easily upgrade store-bought dips, in fact, creating a beautiful appetizer spread for your guests when you do not have time to cook. In this post, I will take two of my favorite store-bought dips and apply my favorite presentation tricks to upgrade simple fare into a lovely, party-ready repast.
Hummus Served with Snap Peas and Baby Carrots

I am not sure if this is an LA thing or a yuppie thing, but hummus is easily the most omnipresent dip at the parties I attend (or host, for that matter). Creamy, savory and just healthy enough to (somewhat) justify eating way too much of it, this superstar is endlessly modifiable to satisfy every craving.
For this example I am using plain old hummus from Trader Joe's, and serving with pre-prepped bags of baby carrots and snap peas.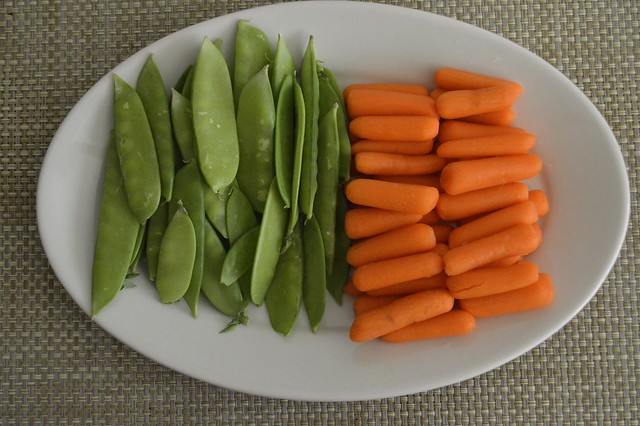 Selecting the vegetables is as simple as buying a bag of baby carrots and a bag of snap peas, pre-washed. You can easily swap out for a variety platter of vegetables, sliced red peppers, endive leaves, celery or whatever you have on hand.
The presentation upgrade here is how you lay the vegetables out. Grab a platter or large dinner plate, on which you will divide the vegetables 50/50.
Pour your first vegetable out on the first half, and tidy them up so they are all facing the same direction. This isn't as fussy as it sounds, and will take you maybe a minute tops. Do the same with the second set of vegetables.
Then, take your hummus and put it in a bowl. I like to take a spoon and swipe in a circular motion to look 'rustic,' then wipe any extra hummus from the rim of the bowl with a paper towel to make it tidy.
The real magic here is with the garnish. To add color and a little extra flavor, I drizzle a little olive oil over the top, give the bowl a tap or two of smoky red paprika and add a few pine nuts, if I have them on hand.
See the difference? With five minutes of extra effort, you gain so much value in presentation. The diversity of color is very pleasing to the eye, and makes the food look that much more desirable.
Guests will not be able to resisting diving right into this tempting treat.
Bruschetta Dip Served with Baguette Slices
As previously established, I am crazy for Trader Joe's dips. This is in large part because I stumbled onto this savory-yet-slightly-sweet bruschetta dip. It has a fruity taste of the tomato mixed with the pungent taste of olive oil and Italian seasonings. Served with baguette slices, you pretty much can't get an easier appetizer.
Start by slicing a baguette, making each peace uniform. I like my slices to be about a centimeter thick.
Lay the pieces out on a platter in tidy rows.
Pour the dip into a bowl - I like to use the same style bowl as the hummus for a streamlined look - and spoon off any excess olive oil that drifts to the top. Then, add a few taps of dried Italian seasoning, oregano or basil.
This won't add too much to the overall flavor if you use a light hand, but adds a nice color contrast.
Serve alongside your bread slices.
Overall Presentation
After you have both sets of appetizers ready, lay them out on your table. Depending on where people will be sitting, be sure that they have an easy reach to both dip and dipping vehicle (read: bread or vegetables).
If you have a fair amount of people and there is not an easy way for them to enjoy both, consider putting out small salad plates or napkins so guests can grab several at a time and bring back to their seat.
There you have it! With several extra minutes, you can present store bought dips and spreads in a beautiful manner, while saving yourself heaps of time. These little additions show a caring touch and interest in presentation, making your guests feel appreciated.
Do you have favorite store bought dips or presentation tips? Leave them in the comments below!